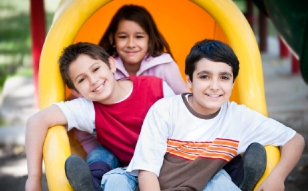 Wednesday, March 20, 2019
Autistic Students Get Hands-On With Animals During British Science Week
Autistic students at LVS Oxford were visited by a host of creatures last week as they celebrated British Science Week with some unusual classes that ended on Friday 15th March. Over the course of the week they handled snakes, spiders, crabs and rats as well as fluffier animals in a series of highly sensory sessions that were very therapeutic.
The school in Begbroke, for young people aged 11 to 19 with a diagnosis on the autism spectrum, began science week with an incubator of unhatched eggs and students watched avidly as nine baby chicks were born in front of their eyes. They were an instant hit with all the students who named them and took turns looking after them, including feeding, watering, daily bedding changes, and monitoring their behaviour. Students were able to visit the chicks every day, checking their growth and habits during science lessons throughout the week.
On Thursday 14th March Key Stage 3 students were visited by ZooLab who brought along an amazing selection of animals including snakes, tarantulas, rats and crabs for the students to learn about and handle. This was a highly engaging session to bring science learning to life and allow students to find out more about the animals and observe their behaviour in real life.
Science students in Years 10 and 11 visited the Oxford Museum of Natural History where they learned about Darwin and evolution through a hands-on workshop where they were able to handle Madagascan hissing cockroaches and learn how these tough creatures adapted to survive.
On Wednesday 13th March, scientist Prof Chris Damerell visited LVS Oxford and ran microscopy workshops with each class. Students learnt about the features and lives of the tiny creatures that live in our ponds and oceans. They were able to view them under a powerful microscope with a camera attached so they could all see the slides at the same time on the classroom's interactive screen.
Head of LVS Oxford Louisa Allison-Bergin said: "British Science Week is a firm favourite with our students who have a keen curiosity for the natural and physical sciences. Being located in Oxfordshire, with so much world-class science and scientific history on our doorstep, means we can give our students a really rich curriculum with a wide range of opportunities to see science in action. It has been wonderful to see so many of them excited about science and the chicks have had a really calming effect on the whole school, which has brought additional learning benefits for our students."
The end of science week at LVS Oxford coincided with Red Nose Day. Students got creative and put the finishing touches to their 'journeys' themed posters for the British Science Association's annual poster competition. They also joined in the Comic Relief fundraising fun by dressing up, buying cake, sponging teachers, washing staff cars and playing in a staff v students football match. Their efforts raised a fantastic £182.50, which capped a memorable week and put a smile on everyone's face.