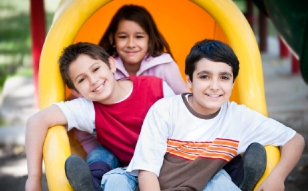 Thursday, December 20, 2018
Autistic Students Host Christmas Market To Gain Business Experience
Students with autism at specialist school LVS Oxford celebrated the festive season whilst honing their business skills by holding a Christmas Market at their big end of term event. Parents and families were invited to gather at St Michael's Church in Begbroke for a school Christingle service on Friday 14th December, after which students hosted the market in the school hall.
The church service was the first one taken for the school by Reverend Oliver Petter since his arrival in the summer. It saw a packed congregation enjoy a number of performances from LVS Oxford's students, including 12-year-old David Wells playing a clarinet solo, a group of pupils acting out the first ever school play, A Christmas Carol, and the staff choir. The play provided an opportunity for a number of students to demonstrate their increased levels of confidence and social interaction since joining the school, and helped them bring to life a novel that many of them are studying as part of their English literature and drama GCSEs.
Reverend Petter said: "It was a vibrant performance and very enjoyable. You could see they had rehearsed intensively, and were very confident and committed – they definitely looked at home on the stage".
The service was followed by a vibrant Christmas Market in the school hall where students of all ages manned stalls to sell items they had made or sourced. It provided them with an excellent opportunity to bring to life their business lessons, and also gave valuable practice in other areas such as handling money and social interaction such as eye contact, things that children with autism often find challenging.
11-year-old Poppy starred in both the A Christmas Carol play and also in selling items at the Christmas Market, having moved to LVS Oxford in September from a mainstream school. Her father Nick said: "The Christingle was very emotional and the play exceeded all expectations. This has been such a beneficial event for Poppy as she has been able to get involved with everything, and whilst she is good with money management, putting the students in charge of the market means she can really apply that and see it in a real-life context. Most schools wouldn't do all this but it is such important applied learning for them".