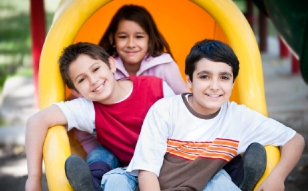 Tuesday, November 27, 2018
Childrens' Mental Health To The Fore As LVS Oxford Hosts Self-Harm Workshop
Parents and professionals who look after young people with autism took part in a valuable workshop on self-harm at LVS Oxford on Friday 23rd November.
The specialist school for young people with autism invited Satveer Nijjar from Harm-ed, who speaks nationally about self-harm and has worked with the Samaritans and Foreign & Commonwealth Office, to help raise understanding of the issue. She gave crucial advice about the behaviours, triggers and functions around self-harm and said: "Young people of all ages are struggling with their mental health and some use self-harm as a coping mechanism. This event has educated, and built the confidence of, professionals and parents in relation to what self-harm is and how to help those it is affecting".
The workshop concluded with a presentation from LVS Oxford's Head Boy Morgan Callaghan, who talked about how autism impacts his life, and two of the school's team of therapists who helped explain strategies of how to support young people with autism who are self-harming.
Karen Irvani from Parents Talking Aspergers, a local support group for parents of those with the diagnosis, was one of the delegates who attended and said: "Particularly in the past six months we have seen an increase in emotional support calls from parents about their children self-harming, from 7-year-olds up to 21. We need to understand the feelings behind their actions and how best we can help. It was a fantastic course in a great setting".
Head of School at LVS Oxford, Louisa Allison-Bergin, said: "I am delighted that we were able to help so many people by sharing expertise today. Feedback from parents and professionals was that they went away with new strategies and new understanding of the young people in their lives who self-harm. We are looking forward to hosting a follow up event as a second part to this workshop".
LVS Oxford is developing a reputation as a centre of excellence for autism with this being the third conference for professionals working with young autistic people. The previous conferences were specifically about how to manage health challenges in girls with autism, and more workshops are planned to help share the school's expertise amongst those who work or live alongside young people with autism.