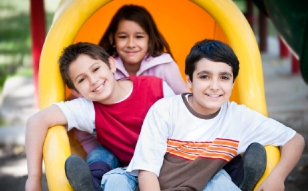 Autistic Students Take Charge Of Fundraising For Sport Relief
Students at LVS Oxford, a school for 11 to 18 year olds with autism, took part in a range of energetic events on Monday 26th March to raise money for Sport Relief. The school, situated in Begbroke, took the opportunity to give students responsibility for working together, collecting sponsorship money and planning events and costumes to ensure the event was a success.
The fundraising began with a sponsored mile, which the students could complete by running, walking or joining together for a three or four-legged challenge to encourage teamwork and communication.
Katie Gatt, LVS Oxford's Health and Fitness Tutor, said: "Participating in sports is really important to students with autism as it helps them grow their confidence, fitness levels and gives them a sense of achievement. It also helps many of them regulate sensory issues and calm them if they are feeling anxious. Large events can be a challenge for young people with autism but everyone remained calm, focusing on completing the task and raising money for Sport Relief. The atmosphere on the route was fantastic with students and staff supporting each other to complete the course. Some students were out in fancy dress which added to the fun and it was great to see them expressing themselves."
After weeks of anticipation, the highlight event at LVS Oxford – the staff v students football match – took place after the sponsored mile. Having experienced defeat last year, the students had been training hard and were determined to improve this time around, which they did in recording a 3-1 win.
So far LVS Oxford's students have raised over £400 for Sport Relief with sponsorship money still coming in. Head of School Louisa Allison-Bergin said: "Our students put in a huge amount of effort collecting sponsorships, planning their costumes, completing the Sport Relief mile, and competing against the teachers on the football pitch. We are a growing school so it was great to see our established students supporting those who have only been with us for a short time. Everyone came together to make our Sport Relief events a big success. I am really proud of all the students, and grateful to their families and the staff for all they did to help us raise so much for this fantastic cause."