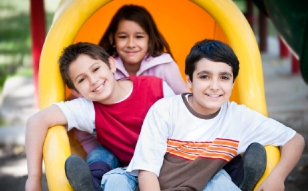 How can VR be used to help SEN students?
What is Virtual Reality (VR)?

 It seems like everybody is talking about VR at the minute, but what exactly is it?
VR is a form of technology that allows users to explore new places from all over the world. Using a headset (almost like binoculars), participants can be immersed in their surroundings by looking at a wide range of 360° images and videos.
The number of places that you can explore is continuously increasing and companies are continuously developing new experiences. For example, teachers can take their students to see a real volcano during a Geography lesson or they can show them inside the human body in Biology.
A large majority of industries (from construction to healthcare) are innovating with how they can incorporate this technology but one of the earliest adopters and biggest beneficiaries so far is... education!


 How can it be used to help SEN students?
I had the privilege of working on the Google Expeditions Programme in the UK, where I visited over 100 schools and gave over 40,000 students the opportunity to try VR. The response from schools was overwhelming and engagement levels in the classroom shot up. Below are some examples of how VR can benefit students with particular needs: 

Students with emotional and behavioural difficulties (EBD)
.
Students who usually present challenging behaviours or a lack of engagement in the classroom have shown more positive behaviours during a VR experience. On a frequent basis, teachers told me that this particular student with EBD had never shown such a positive attitude towards the lesson.

 Autism

Autistic students who find it difficult understanding the social behaviour of others can use VR to practise various behaviours in different social settings. Various studies around the world have found that VR can be used to help autistic students to learn.
Using VR, researchers have created 'virtual classrooms', where autistic students can learn from human avatars, which have more simplified body language and facial expressions.

How can schools access VR?


There are a number of ways schools can incorporate VR into their curriculum but the most affordable and accessible way is through your everyday smartphone. There are a number of free apps that you can download to use in the classroom, from Google Expeditions and Discovery VR to Molecule VR
Most modern smartphones will be VR ready (if you have an accelerometer and gyroscope, you are ready to go!) and so all you need is a headset. There is a lot of choice out there, with various brands offering different features such as an adjustable focal lens, head straps, built in headphones etc. For a more in-depth look into VR headsets for schools, take a look at this article here

If you are looking to incorporate VR into your school and you want some more information, check out PrimeVR or email [email protected].


If you would like to see a VR experience day in action, check out this short video

PrimeVR offers experience days and VR subscriptions to schools. Stuart Gent is a qualified teacher and former Google Expeditions associate and has worked in over 100 schools across the UK.