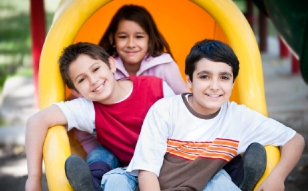 Autistic Students Take First Step To Independence With Oxford Camping Adventure
A group of students with autism took a huge step towards independence last week when they enjoyed an outdoor camping adventure in the Oxfordshire countryside. Twenty pupils aged 11 to 14 from LVS Oxford enjoyed a three-day residential stay with the Bushcraft Company, living in tents in Blenheim Woods near Bladon from Monday 8th to Wednesday 10th July. The trip successfully complemented the school's ethos of encouraging outdoor learning – demonstrated recently by opening a yurt in the school grounds – and promoting the benefits of physical wellbeing.
The key stage 3 students, many having their first taste of life away from their families, slept in small groups in tents erected around a campfire that they were tasked with keeping alight throughout their entire stay. Their first day at camp provided a crash course in fire lighting and shelter building, whilst day two saw them find out about survival in the wild. This took the form of wilderness first aid, learning how to get someone to safety when stranded in remote areas, and camouflage and concealment where students were able to camouflage themselves and their teachers, much to their delight. The final day saw them make traps and take on a host of bushcraft challenges to end a week in which they learned a lot about themselves and their capabilities to look after themselves.
LVS Oxford Deputy Head Tracy Lucas said: "One of our key goals as a school is to prepare students to live independent lives, and this residential trip is getting them used to being away from home, making them communicate more with others, be tolerant and understanding to each other and work as a team. For 80% of them this is their first ever trip away from home without their families, so it has been a really valuable exercise".
Older students from LVS Oxford in key stage 4 (years 10 and 11) spent the same three days visiting Hill End activity centre near Botley. An exciting array of outdoor activities saw them enjoy go karting, wood carving, problem solving team exercises, cooking and art. The wood carving class saw pupils fully engaged, as they enjoyed the sensory experience of stripping bark from branches then sawing and adapting them to create walking sticks to take out on a hike, whilst go karting allowed them to race each other down a huge hill at the site.
Sixth formers at the school for students aged 11 to 19 on the autism spectrum had already enjoyed a fantastic residential trip to Butlins in Minehead, a deserved reward for all their hard work in completing A-level exams and coursework towards their other qualifications.