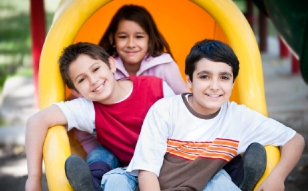 Day To Remember For Autistic Students Playing On Amex Stadium Pitch
Dreams came true for a group of autistic students recently as they played on the same pitch as their footballing heroes from Brighton and Hove Albion. Pupils from LVS Hassocks, a specialist school for young people with autism, stepped onto the pitch they have only previously seen from the stands at the Amex Stadium on Thursday 16th May as Brighton and Hove Albion welcomed a small number of schools to experience a truly memorable day.
Eight students from the school were invited to take part in the Albion In The Community day, which started with a group training session where students were able to warm up on the pitch, led by a team of coaches. Once the pupils had taken in their surroundings and got used to playing in a large stadium, a succession of matches took place on the pitch where Manchester City's international superstars had lifted the Premier League trophy just four days earlier.
Kieran Green from Albion in the Community has been a regular visitor to LVS Hassocks this year to run PE sessions, engage pupils with physical activity and try more sports they wouldn't have done previously. Kieran, who has cerebral palsy, is an excellent role model for the student with autism and shows them that no disability should hold you back from doing the things they are passionate about. He was in attendance at the special 'play on the pitch' day as a familiar face for the LVS Hassocks students to help ease any anxiety they may have had.
LVS Hassocks Learning Support Assistant Lou Parrish who organised the trip said: "Being part of Albion In The Community events are so beneficial for our students as it gives them opportunities they would not necessarily have otherwise. Not many people can say they have played on a Premier League pitch. One of our students even said it was the best day of his life!"
LVS Hassocks' links to Albion In The Community is just one of the ways the school interacts with the local community. The school also works closely with Avtrade, the world's largest independent aviation component services provider and based in Sayers Common, and provides work experience opportunities for students in the local area such as working at Waitrose. Last term sixth form students from Hurstpierpoint College also visited LVS Hassocks to run sports lessons and build a rapport with its pupils.